Nelson Mandela spoke about the power of sport after the 1995 World Cup of Rugby in South Africa. With his words he became a lifelong advocate for sport and its potential to heal communities.

The then-captain of the South African Rugby Team, Francois Pienaar said "When the whistle blew, South Africa changed forever."

"Among certain white communities in apartheid South Africa, it was taken for granted that Nelson Mandela was a terrorist who must remain behind bars. That was drummed into the young François Pienaar, who would one day welcome Mandela to his wedding and name him as godfather to his two sons.
The men came together when Pienaar captained South Africa to victory at the 1995 Rugby World Cup. When the blond Afrikaner shook hands with the black freedom fighter turned president, they instantly forged one of the country's defining images of racial unity." ~ The Guardian, David Smith
Articles
The Guardian
The Mirror
The Telegraph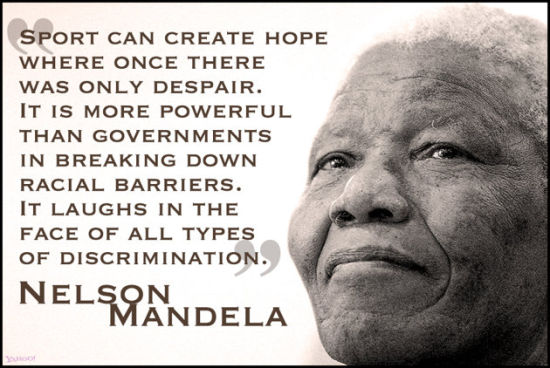 Comments
comments