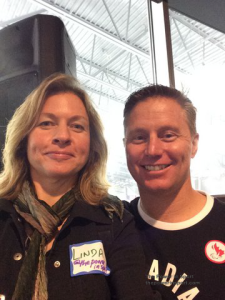 This man advocated for a new category sport at the Paralympic Games. Snowboarding. It debuts in the 2014 Sochi Olympics and he's representing Canada.
His back story — he broke his neck, was paralyzed, and learned how to walk again. Then he started competing in winter sports.
"Tyler Mosher may be great at swerving down the slopes, but the parasnowboader has conquered incredible uphill battles, too.
On Dec 30, it will be 13 years since Mosher tumbled down a 10 metre drop while snowboarding, broke his back in 9 places, and became paralyzed below the waste.
A decade later, he had not only re-learned how to walk (something doctors told him he would never again do) but had also returned to winter sports as a cross-country skier. Then he defied the odds again by helping convince the Paralympic committee to include adaptive snowboarding on their roster.
These days, he's training to represent Canada in the first ever Paralympic parasnowboarding competition. The strong-spirited athlete joins Jian to discuss his determination to overcome adversity and how he's gearing up for his Paralympic debut. "
– excerpt from Q on CBC
Comments
comments