Curated: Michelle Obama in Saudi Arabia
A number of articles on the Michelle Obama 'stance' for women while in Saudi Arabia. What's your take?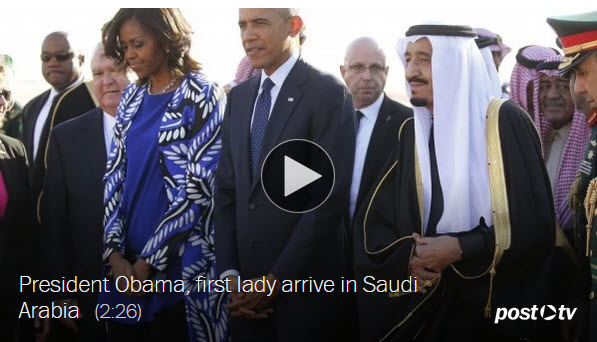 ARTICLE: MAIL ONLINE – PIERS MORGAN: Bravo Michelle! Mrs Obama's style and scowl were the perfect way to highlight Saudi oppression of women – and we should cheer it, not condemn it
ARTICLE: PEOPLE: Much Ado About Nothing? Michelle Obama's Bare Head Sparks Debate
ARTICLE: CNN _First lady Michelle Obama shakes hands with Saudi king. So?
ARTICLE: The Washington Post – Michelle Obama forgoes a headscarf and sparks a backlash in Saudi Arabia


---
Piers Morgan: "Bravo, Michelle Obama.
Make no mistake, the easier thing for the First Lady to do in Saudi Arabia this week would have been to drape herself in black clothing and a veil."
Excerpt below from CNN _First lady Michelle Obama shakes hands with Saudi king. So?
excerpt
Obama also did not cover her head, eschewing strict religious and cultural customs in Saudi Arabia, where women wear a full-body garment called an abaya and cover their heads with a hijab or the more conservative niqab, which has only a slit for the eyes.
Obama's predecessor Laura Bush also did not cover her head during her 2007 solo visit to Saudi Arabia and neither did Hillary Clinton during a 2010 trip to the kingdom as Secretary of State. Another former secretary of state, Condoleeza Rice, also did not cover her head as she joined the U.S. delegation in Saudi Arabia on Tuesday.
But the U.S. State Department advises other American women visiting the country that they could face problems if they don't cover their heads.
"Women who choose not to conform to this dress code face a risk of confrontation by Mutawwa (religious police) and possible detention/arrest," the State Department says on its website. "While most incidents have resulted only in inconvenience or embarrassment, the potential exists for an individual to be arrested, physically harmed, or deported."
Comments
comments